Hey there, healthcare heroes! 🏥 Building a healthcare website? You've come to the right place. I know what you're thinking, "Where do I start?" Well, your worries end here.
You see, a healthcare website is more than just a pretty digital face. It's your virtual reception desk, the gateway to your services, and most importantly, the comforting smile for those in need.
In this article, I'm going to walk you through the essential pages your healthcare website MUST have. From the welcoming "Home Page" to the informative "Services Page," we've got it all covered.
So buckle up, because we're about to make your healthcare website shine like a freshly sanitized stethoscope! 🌟
Ready to get started? Let's dive into the very first essential page – the Home Page!
The Home Page: Your Virtual Welcome Mat
Hello, Home Page! 👋 This is where the journey begins for most of your visitors. Think of it as the front door to your clinic, hospital, or healthcare facility. Exciting, right?
Warm Greetings Matter
First impressions last, and your Home Page should exude warmth and trust. Use welcoming images, friendly tones, and clear messages that tell visitors they're in good hands.
Highlight Key Services
People visit your website for a reason. They want to know what you offer. Highlight your main services right on the Home Page. Are you a dental clinic? Showcase those sparkling smiles!
Easy Navigation
The Home Page should guide your visitors like a friendly receptionist. Make it easy to find the Contact Us, Services, or About Us pages. No one likes to wander around lost, especially online.
Emergency Contact
In healthcare, emergencies can happen. Include clear and visible emergency contact information. A life could depend on it!
Your Home Page is the heart of your healthcare website. It's the big, friendly "Hello!" that welcomes patients and assures them that they've come to the right place. Make it shine, and you've won half the battle.
Next up, is the Contact Us page. Ready to connect with your patients? Let's go! 📞
The Contact Us Page: Where Connections Are Made
Time to get personal! 🤝 The Contact Us page is like extending a hand to your patients, inviting them to reach out. It's about making connections, addressing concerns, and building relationships.
Provide Multiple Contact Options
Different people prefer different ways of getting in touch. Provide phone numbers, email addresses, and even social media links. The more options, the merrier!
Location, Location, Location!
If you have a physical clinic or hospital, include a map and address. Make it easy for people to find you. GPS coordinates? Even better!
A Friendly Contact Form
Some folks like to drop a quick message. Include a user-friendly contact form that asks for just the essential details. No lengthy forms, please!
Office Hours and Availability
It's important to let your visitors know when you're available. Include office hours, holidays, and any special instructions for emergencies.
A Personal Touch
A little human touch can work wonders. Include a photo of your reception team or a personal note from the healthcare provider.
The Contact Us page isn't just about throwing a bunch of contact details on a page. It's about making it easy, inviting, and personal.
It's about saying, "We're here for you, just reach out!" Connecting with your patients starts here. So, what's next? Let's dive into the Services page and show them what you've got! 🚀
Services Page: Showcasing Your Expertise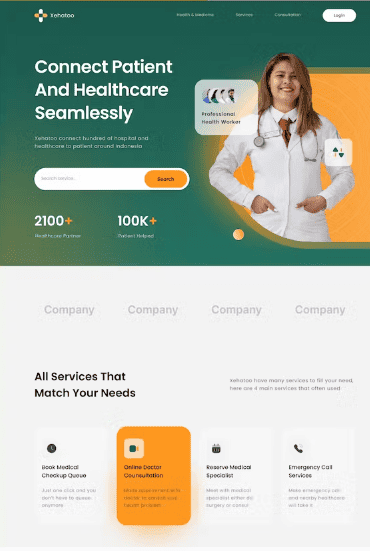 It's showtime! 🌟 Your Services page is where you get to flaunt your healthcare skills, the treatments you offer, and the expertise your team brings to the table.
Outline the Services
Break down your services into easy-to-understand categories. Whether you're an all-in-one healthcare provider or a specialized clinic, make it clear and concise.
Include Clear Descriptions
Each service needs a brief, jargon-free explanation. You're the expert, but your patients might not be. Make it relatable!
Use Visuals
Pictures or icons can add a touch of flair and help visitors understand the services better. But remember, quality over quantity!
Price Transparency
If possible, include pricing details. No surprises are the best surprises!
Link to Detailed Pages
For those who want to dive deeper, have individual pages for each service with more detailed information.
Include Testimonials
What's better than telling people how great you are? Others doing it for you! Include some patient testimonials relevant to each service.
Your Services page is the stage where you show potential patients why they should choose you. It's a blend of professionalism, clarity, compassion, and understanding.
Now, who wouldn't want to be part of that? Up next, the About Us page! Get ready to tell your story. 🎙️
About Us Page: Telling Your Story
Ready to share the heart and soul of your healthcare facility?
The About Us page is where you reveal who you are, what you stand for, and why you're in this noble profession. Let's get personal!
Introduce the Team
Highlight the key players in your team. Photos, brief bios, and credentials help humanize your healthcare website.
Share Your Mission
Why did you choose healthcare? What's your goal? Share it passionately!
Outline the History
A little nostalgia never hurt anyone! If you've been around a while, share your journey. It adds credibility and connection.
Highlight Your Achievements
Awards, recognition, certifications – this is the place to show them off.
Include Patient Testimonials
People trust people. Include some heartfelt reviews or testimonials to emphasize your commitment to patient care.
Add Visual Media
A picture or a video tour of your facility can make the page more engaging and help potential patients visualize being there.
The About Us page is your chance to connect on an emotional level.
Show them the compassionate, skilled professionals behind the healthcare website. Let your dedication shine through.
Next, we're navigating to the patient testimonials & reviews page – the gateway to building trust!
Patient Testimonials & Reviews
A word of praise from those who've experienced your care can be more persuasive than any advertisement. When it comes to your healthcare website, patient testimonials and reviews are essential!
Building Trust with Potential Patients
Real stories and genuine experiences build trust. Include testimonials that highlight your dedication, expertise, and patient satisfaction.
Real Stories and Experiences
Provide a platform where satisfied patients can share their stories. This can include written testimonials, video interviews, or before-and-after photos of treatment.
Properly Curated and Highlighted
Be strategic in displaying these reviews. Highlight those that are most relevant to your potential patient's concerns, and ensure they are easily accessible.
By giving voice to satisfied patients, you can convince potential patients that they will receive top-notch care at your facility.
It's a humane touch that can make all the difference.
Now, let's move on to an often-overlooked but essential part of healthcare websites: a dedicated resources or blog section!
Resources or Blog Section
Educating your visitors isn't just about providing services; it's about sharing knowledge. The Resources or Blog section of your healthcare website can become a hub of valuable information.
Educating Visitors and Patients
Provide insightful articles, guides, or videos that address common health concerns. Educating visitors can foster trust and demonstrate your expertise.
Sharing Latest Healthcare News, Research, or Updates
Stay up-to-date with the latest medical research or healthcare news, and share them with your audience. This will position you as a go-to source for reliable information.
Positioning as an Industry Expert
Regularly post content that resonates with your patients' interests and needs. This will help in building your image as an industry expert and a reliable healthcare provider.
Having a vibrant and informative Resources or Blog section can make your healthcare website more engaging and resourceful.
By sharing knowledge, you're not only assisting your existing patients but attracting new ones.
That's the reason why I write on this blog, to teach you about local SEO, web design, and web development. In return, many of you will become clients because of the value that I am providing.
It's time now to look into one of the most practical sections – the FAQs!
FAQs
We all have questions, especially when it comes to healthcare. The Frequently Asked Questions (FAQs) section is an essential part of your healthcare website, where curiosity meets clarity.
Addressing Common Patient Concerns
Compile a list of frequently asked questions that your patients might have. Answer them succinctly and clearly to alleviate concerns and provide essential information.
Easy Navigation with Categorized Questions
Organize the questions into relevant categories for easy navigation. Whether it's about treatments, appointments, or insurance, make finding answers a breeze.
Linking to Respective Service Pages for Detailed Info
In your answers, don't hesitate to link back to the relevant service pages for more detailed information. It's all about creating a seamless and informative experience for your visitors.
The FAQs section is more than just a list of questions and answers.
It's a vital tool that can guide your patients through their journey, offering reassurance and clarity at every step.
Now, let's dive into the functionality that brings convenience to that journey – the Appointment Booking System!
Appointment Booking System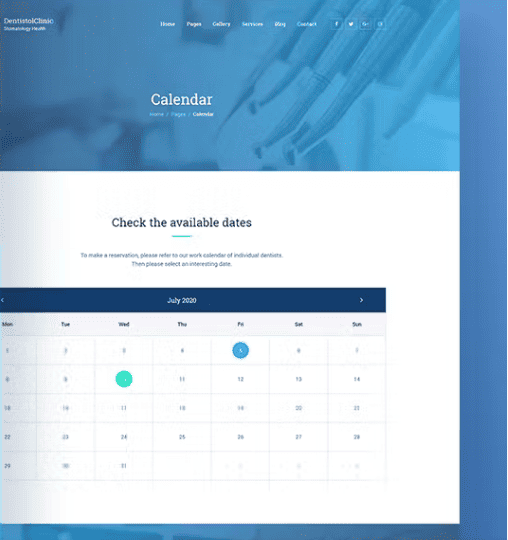 Ever tried to book an appointment over the phone and found it frustrating?
Welcome to the future of convenience with the Appointment Booking System. This part of your healthcare website can truly revolutionize the patient experience.
Simplifying the Patient Journey
Incorporate an online booking system that allows patients to pick their preferred date, time, and service. Make it a smooth and straightforward process, eliminating unnecessary calls or emails.
Online Forms and Calendar Integrations
Use well-designed online forms that gather all the necessary information. Integrate with calendars, such as Google Calendar, to sync appointments and manage schedules efficiently.
Reminders and Confirmation Systems
Automate reminders via email or SMS to ensure no one forgets an appointment. Confirmations add another layer of professionalism and convenience, keeping everyone on the same page.
A well-thought-out Appointment Booking System is like a friendly receptionist that works 24/7.
It streamlines scheduling, reduces errors, and enhances the patient experience.
We've covered quite some ground, and now it's time to tie everything together in our conclusion. Shall we?
Conclusion
We've embarked on a fascinating journey through the essential anatomy of a successful healthcare website.
From the welcoming embrace of the home page to the detailed clarity of services, the trust-building testimonials, and the ever-so-convenient appointment booking system, every element serves a unique purpose.
Remember, a healthcare website is not just a virtual business card. It's an extension of the care, professionalism, and expertise you offer to your patients.
Whether it's about conveying trust through the 'About Us' section or simplifying communication via the 'Contact Us' page, each segment plays its role in shaping the visitor's experience.
The balance between professionalism, information, and user-friendly design is what makes a healthcare website not just good but great.
A website that reflects the heart and soul of your healthcare practice can truly resonate with patients, turning visitors into loyal clients.
If the thought of creating such a specialized website feels overwhelming, don't fret! Unique Web Designer is here to help.
With our expertise in creating healthcare websites, we can make the process seamless and tailored to your needs, all without disrupting the reader's flow.
Your patients are waiting, and so is success. Let's embark on this journey together!