A website is an essential tool for any business, large or small.
There's no debate about it. To compete in today's ultra-competitive market, you need a strong online presence.
I am not simply talking about a DIY cookie-cutter website. Instead, you need a professionally designed website that is optimized for mobile devices and is search engine friendly.
Why? Because this is where your consumers are looking. In fact, the typical consumer will consult 10.4 sources before making a purchase. This explains why digital ad spend has surpassed traditional marketing efforts.
If you run a local business, regardless of your location, You'd better be considering online, social media, and mobile.
The first component of this plan, and perhaps the most essential, is your company's website.
Do you believe you'll be able to make it another year without a website? Or perhaps get away with that old, outdated site for a few more years?
Think again. A company without a website will be ignored by 30% of customers. Consumers want local businesses, regardless of size, to have an online presence.
But not just any online presence. In fact, 88% of consumers are less likely to return to a website after having a bad experience.
So why does your business need a website? Here are 10 essential reasons why your business should have its own website!
1. A website makes your brand more visible
Google processes 5.6 billion searches each day and the only way you can take advantage of that is by having a website.
If you run a local business with a physical location people will find you in one of three ways:
Drive/Walk by
Word of mouth
Local ad (newspapers, tv ads, etc.)
What this means is that your business's visibility is limited by your location, its reputation with the locals, and your ad purchasing power.
However, that's not the case if you have a professionally designed website.
With a website, you can get in front of anyone searching online for products or services related to your business, be it local or around the world.
2. Websites are open for business 24/7
Can you imagine having a superhuman employee that works for you 24/7 without ever getting tired or asking for a raise?
Well, that's what your business website is. It never rests and you don't have to pay it a dime in overtime or benefits.
With an online business presence, you are open for business 24 hours every day of the year.
So whether someone visits your website in the middle of the night or right at dawn, in a way you're always interacting with them, and can say sayonara to that 'closed for business' sign.
3. Having a website enhances your company's credibility
77% of consumers believe that a website makes a business appear more credible.
Increasing the credibility of your business is one of the most important functions of having a website.
Chances are, there are several businesses offering the same service as you. One method to differentiate yourself is to have a business website that looks good and communicates high-quality information about your company.
People may question your legitimacy as a company if you don't have a website.
Having a site is an excellent opportunity to make a good first impression and provide consumers with assurance that you're a real company.
Think about it. It's actually pretty simple… If someone wants to know more about your business and determine if you're a trustworthy company, they'll do their research online.
So without owning an informative business website that displays all of the essential pieces of information, you won't be able to convince people that you are a trustworthy or legitimate business.
4. Your competitors have one
Does your business have a website?
If the answer is no, then you're already behind.
64 percent of small businesses report having a website.
This means that a majority of small businesses have an online presence, and It's likely that your rivals have a website that appeals to people in your region.
Want to find out if you're lagging behind? Do a Google search for industry-related terms and include the term "near me."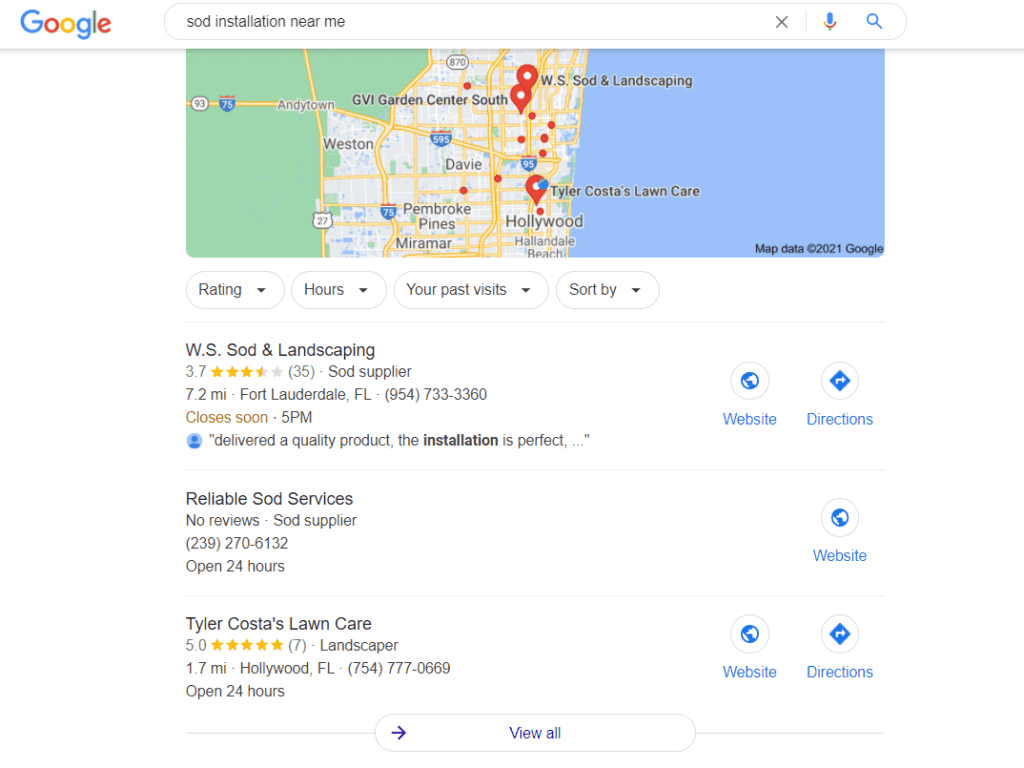 5. It's not as expensive or time consuming as you think
When news came out that our great state of Florida paid $77 million to create the unemployment website I was shocked.
I can see how anyone hearing that type of news can get the idea that creating a business website is the surest way to go bankrupt.
However, this is not the case. Having a business site created can be cost effective and they provide a better return on investment than any other form of advertising.
Don't know where to get started? Read the following article: 7 tips for finding a good web design company in Miami.
There's no doubt that if you're planning to market your business, having a website should be your first priority.
What about the time? You may say.
Well, the good news is it doesn't have to take up very much of your precious time at all!
With today's technology and ever-expanding internet capabilities, there are several business web design services that provide online tools which allow you to update content on your site without writing any code or having any technical experience.
6. A website helps you become an authority in your industry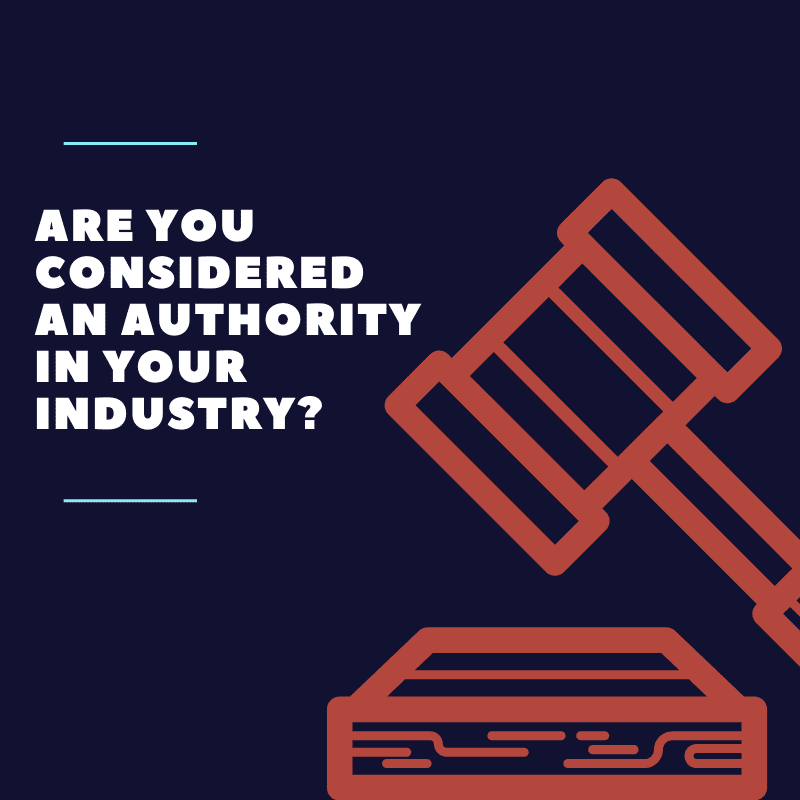 We tend to trust "experts" and make purchasing decisions based on expert recommendations.
If you want to become an authority in your niche, then having a business website is the way to go.
Having a website allows you to provide potential customers with helpful information about your business and explain to them how your products and services can help solve their problems.
Think about it this way… if you love chicken wings and are looking for recipes to try on your own without thinking you will pull out your phone and do a Google search.
You will look through the results and chose the one that you think best serves your needs at that moment.
Now, what if you had a local restaurant that sold chicken wings and shared different recipes for making chicken wings with your visitors?
Don't you think people will buy your sauces, visit your restaurant, and buy whatever chicken wing related products that you sell if they liked your recipes?
That's the beauty of becoming an authority in your industry through the use of great content on your business site.
7. Websites are the best way to showcase your products and services
It is no secret that people love to shop online.
In fact, the total e-commerce sales for 2020 in the USA totaled $759.47 billion and continues to grow year after year.
With numbers like these, it would make sense for you to have a business website in order to showcase your products or services online.
And the best part about it is that you get to control the narrative. A website gives you control over the presentation of your products and services to potential customers.
8. You can strategically target your customers through a website
It's difficult to get individuals to write their email addresses or phone numbers on pieces of paper and hand them in at a physical storefront.
But typing in an email address or phone number on a website is considerably easier – especially if one believes they're receiving something in return, such as a newsletter, a special report, or an ebook.
And once you have the email address or phone number, it's completely up to you as to how you want to go about trying to convert that curious visitor into a long-term customer.
Not to mention that through the use of tracking software, you can see how people interact with your website and even advertise to them after they leave it.
9. Virtual businesses are the future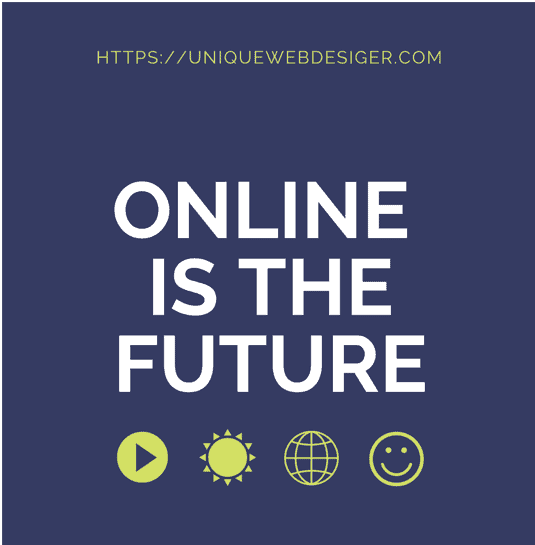 Don't get me wrong, there will always be room for physical storefronts, but there's no denying that virtual businesses are the future.
I run a web design business that services local and international clients from the comforts of my house.
Amazon is the second largest retailer in the world and their storefront starts with HTTPS instead of a number.
Many of the most successful businesses in Miami are completely run from a home office.
Unless having a physical storefront is a must for your business, I would recommend you look into the benefits of running your business from home.
10. Consumers search with proximity in mind
Consider this: "Near me" searches have grown exponentially in the past year and 82% of smartphone users say they use search to find a local business.
Furthermore, 88% of searches for local businesses on a mobile device either call or visit the business within 24 hours.
Now my question to you is when was the last time you came across someone that didn't have a smartphone?
The answer to that question is most likely "I don't know" which shows you the importance of having a website to the growth of your business in your local area.
That being said, don't think you can just build a website, never update it, and have people flocking to it.
Your website must be optimized for mobile, SEO friendly, updated frequently, and be enhanced to increase conversions in order for it to be worthwhile.
Tips for creating a website for your South Florida business
So, by now, you probably understand the importance of having a website for the growth of your local business.
But, how do you go about designing one and who do you turn to if you need a professional web developer?
Here are a few pointers to keep in mind while developing your company's website to help ensure that it performs well, looks good, and attracts the clients you want.
1. Not a designer? Hire a local web design company
While you can go about designing your business website yourself, I would not recommend it if you're not an experienced developer.
Hiring a reputable local web design company is the way to go!
They will understand how to best present your products and services to your website visitors.
Not sure how to find a good website design company near you? Here are a few tips for finding a reputable Miami web design company.
2. Make sure the site is optimized for mobile
Nearly 60% of all online searches come from mobile devices.
And, to make matters even more interesting, Google penalizes websites that are not mobile-friendly.
Make sure your website is optimized for mobile so that it stays in good standing with Google and shows in the best light to a great majority of its visitors.
3. Include social media profiles
Add social media buttons so that visitors can share the attractive and informative pages on your newly created website.
This has the potential of increasing your social media footprint, increase your amount of followers, and perhaps place you in front of more potential paying customers.
4. Use a good web hosting company
Any successful website requires a dependable and high-performing web hosting platform.
When you're considering developing a new website, one of the last things on your mind is where to host it. However, disregarding to pick the appropriate host might have severe consequences for your website – and your business.
Your web host is responsible for maintaining the server your website resides in which means they directly impact your website's uptime and load speed.
Below are some good hosting companies to consider:
5. Include crucial information: Name, phone, and address
One of the main objectives of your website is to encourage potential consumers to contact you.
Therefore including your phone number is a must.
Don't forget to include your physical address if there is one so that potential clients can visit your place of business if they wish to.
What's your reason for not being online?
One small business owner I spoke to told me that he didn't have a website because he didn't want any more business.
He's a plumber that has been in business for over 20 years and is as busy as he wants to be for the foreseeable future.
But if you actually want more business, contact Unique Web Designer for all of your Miami web design needs.